하모니카 묻고답하기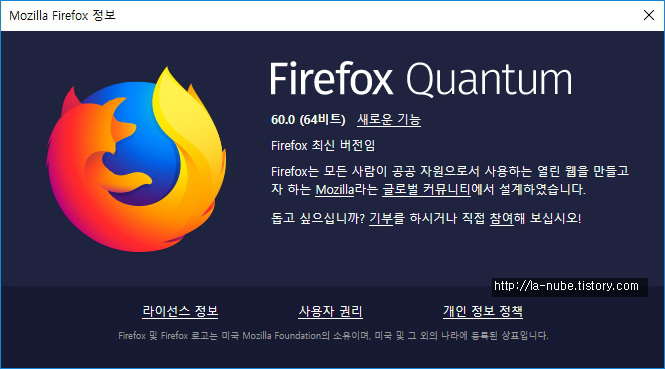 모질라(Mozilla)에서 개발하는 웹브라우저 '불여우' 파이어폭스(Firefox)의 새로운 기능 추가나 버그 수정 또는 보안 취약점 문제를 해결한 파이어폭스 60.0 버전이 윈도, 맥OS, 리눅스에서 업데이트를 통해 각각 배포되었습니다.

--


이번 업데이트에는 다음과 같은 26건의 보안 취약점에 대한 보안 패치가 포함되어 있습니다.
■ Critical 등급 (2)
 - CVE-2018-5151: Memory safety bugs fixed in Firefox 60
 - CVE-2018-5150: Memory safety bugs fixed in Firefox 60 and Firefox ESR 52.8
■ High 등급 (6)
 - CVE-2018-5154: Use-after-free with SVG animations and clip paths
 - CVE-2018-5155: Use-after-free with SVG animations and text paths
 - CVE-2018-5157: Same-origin bypass of PDF Viewer to view protected PDF files
 - CVE-2018-5158: Malicious PDF can inject JavaScript into PDF Viewer
 - CVE-2018-5159: Integer overflow and out-of-bounds write in Skia
 - CVE-2018-5160: Uninitialized memory use by WebRTC encoder
■ Moderate 등급 (14)
 - CVE-2018-5152: WebExtensions information leak through webRequest API
 - CVE-2018-5153: Out-of-bounds read in mixed content websocket messages
 - CVE-2018-5163: Replacing cached data in JavaScript Start-up Bytecode Cache
 - CVE-2018-5164: CSP not applied to all multipart content sent with multipart/x-mixed-replace
 - CVE-2018-5166: WebExtension host permission bypass through filterReponseData
 - CVE-2018-5167: Improper linkification of chrome: and javascript: content in web console and JavaScript debugger
 - CVE-2018-5168: Lightweight themes can be installed without user interaction
 - CVE-2018-5169: Dragging and dropping link text onto home button can set home page to include chrome pages
 - CVE-2018-5172: Pasted script from clipboard can run in the Live Bookmarks page or PDF viewer
 - CVE-2018-5173: File name spoofing of Downloads panel with Unicode characters
 - CVE-2018-5174: Windows Defender SmartScreen UI runs with less secure behavior for downloaded files in Windows 10 April 2018 Update
 - CVE-2018-5175: Universal CSP bypass on sites using strict-dynamic in their policies
 - CVE-2018-5176: JSON Viewer script injection
 - CVE-2018-5177: Buffer overflow in XSLT during number formatting
■ Low 등급 (4)
 - CVE-2018-5165: Checkbox for enabling Flash protected mode is inverted in 32-bit Firefox
 - CVE-2018-5180: heap-use-after-free in mozilla::WebGLContext::DrawElementsInstanced
 - CVE-2018-5181: Local file can be displayed in noopener tab through drag and drop of hyperlink
 - CVE-2018-5182: Local file can be displayed from hyperlink dragged and dropped on addressbar

--

그 외에 다음과 같은 새로운 기능이 추가되거나 변경되었습니다.
■ NEW
 - Added a policy engine that allows customized Firefox deployments in enterprise environments, using Windows Group Policy or a cross-platform JSON file
 - Enhancements to New Tab / Firefox Home
 - Redesigned Cookies and Site Storage section in Preferences for greater clarity and control of first- and third-party cookies
 - Applied Quantum CSS to render browser UI
 - Added support for Web Authentication API, which allows USB tokens for website authentication
 - Enhanced camera privacy indicators: Firefox now turns off your camera and the camera's light when you disable video recording, and turns the camera and light on when you resume recording
 - Added an option for Linux users to show or hide page titles in a bar at the top of the browser. You'll find the Title Bar option in the Customize panel available from the main browser menu.
 - Improved WebRTC audio performance and playback for Linux users
 - On-by-default support for the latest draft TLS 1.3
 - Locale added: Occitan (oc)
■ CHANGED
 - Changed the Windows shortcut for entering Reader View to F9, for better compatibility with keyboard layouts that use AltGr
 - Bookmarks no longer support multiple keywords for the same URL unless the request has different POST data
 - TLS certificates issued by Symantec before June 1st, 2016 are no longer trusted by Firefox
 - Updated the Skia graphics library to milestone 66
자세한 업데이트 내역은 아래 링크의 정보를 참고하기 바랍니다.
--
네이버 파파고의 한국어 번역본은 아래와 같습니다. (현재 PC에서만 이용이 가능합니다.)
https://papago.naver.net/website?locale=ko&source=en&target=ko&url=https%3A%25%23x2F%3B%25%23x2F%3Bwww.mozilla.org%25%23x2F%3Ben-US%25%23x2F%3Bfirefox%25%23x2F%3B60.0%25%23x2F%3Breleasenotes%25%23x2F%3B

--

[영향을 받는 소프트웨어 및 업데이트 버전]

□ 파이어폭스 59.0.3 및 이하 버전 → 파이어폭스 60.0 버전으로 업데이트

※ https://www.mozilla.org/en-US/firefox/60.0/releasenotes/

※ https://www.mozilla.org/en-US/security/advisories/mfsa2018-11/

--

그러므로 파이어폭스 사용자는 자동 업데이트('메뉴 열기 → 도움말 → Firefox 정보') 기능을 통해 최신버전으로 업데이트하기 바랍니다.

리눅스에서는 패키지 업데이트를 통해 최신버전으로 업데이트하기 바랍니다.
데비안 / 우분투 기준 : $ sudo apt-get update && sudo apt-get dist-upgrade


출처: http://la-nube.tistory.com/411 [la Nube | 라 누베]

번호

제목

추천 수

글쓴이

날짜
조회 수
공지

하모니카 5.0 Hanla 64bit 릴리즈 노트

[9]
0
JamesBae
2021.10.12
15838
공지
[공지] '하모니 소식' 게시판 변경 공지 [1]
0
LukeHan
2018.12.17
29449
584
[배포판] 보이저 리눅스 18.04 출시 [6]
0
행복한펭귄
2018.05.03
547
583
리눅스 민트에서 내장 그래픽 사용하다가..ㅜㅜ [3]
0
블랙커피
2022.01.03
546
582
예상치 못하게 우분투 16.04.6 LTS 출시돼 [3]
0
la_Nube(누베)
2019.03.12
544
581
우분투 14.08(?) / mint 19 초보가 2가지 설치 후 .... [5]
0
neo813
2018.06.09
543
580
우분투 18.04와 16.04 그리고 17.10 소식 with 리눅스민트 [1]
0
la_Nube(누베)
2018.07.09
542
579
하모니카 이전 버전 구할수 있나요 [3]
0
gosl
2019.05.23
540
578
DaVinci Resolve(다빈치 리졸브) 17 8RAM 에선 실행이 안되나요? (하모니카5.0) [12]
0
친절한우주인
2022.04.06
539
577
하모니카OS와 VIVEex [1]
0
taiyin
2021.09.07
539
576
하드디스크 포멧 후 파일관리자 [3]
0
Jong
2020.02.18
539
575
정부에서 했으면 하는 것. [1]
0
세벌
2018.10.17
539
574
아직도 포맷중 [2]
0
히릿
2020.07.01
537
»
파이어폭스(Firefox) 60.0 업데이트 [1]
0
la_Nube(누베)
2018.05.10
536
572
NAS 구축해보신분 있나요 [10]
0
민트초코너무좋아
2022.03.27
535
571
하모니카 plank 버전 [8]
0
그럴sudo
2018.03.07
533
570
scrcpy 미러링안됨 알려주세요 ㅜㅜㅜ 미리 감사요 [9]
0
redking
2022.12.27
532
569
리눅스를 쓰면 컴퓨터의 성능을 100% 활용하지 못한다는 이야기를 들어서요.. [5]
0
라루미
2022.02.20
532
568
카카오톡 설치 에러 [3]
0
dsman
2023.01.16
530
567
하모니카 6.0 태백 설치하고.. 그리고 카카오톡 한글 문제. [2]
0
K299792458
2022.11.21
529
566
데비안 와이파이 드라이버 관련 문제 [2]
0
6Gelemen
2020.03.05
529
565
하모니카1.3 virtualbox 설치시 오류 [2]
0
짱구신
2019.05.26
528